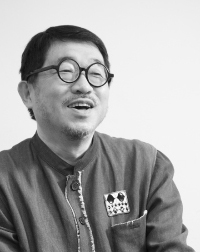 © OITA GODO SHIMBUNSHA
1958年 広島県生まれ 慶應義塾大学文学部フランス文学科卒業
82年から99年まで、西武美術館・セゾン美術館に勤務
99年から、武蔵野美術大学芸術文化学科教授
イサム・ノグチ庭園美術館学芸顧問
慶應義塾大学アート・センター訪問所員
アート・ビオトープ那須、二期リゾート文化顧問
2013年から、公益財団法人大分県芸術文化スポーツ振興財団 理事兼美術館長
〈専門分野〉
 近現代デザイン史・美術史、現代芸術論、アート・デザイン・マネージメントを含んだニュー・ミュゼオロジー、ジャポニズムを端緒とした比較空間、空間感覚学から、美術・デザイン・建築の影響史、受容史、比較文化史、芸術社会学までが研究領域
〈主な展覧会企画〉
 「日本の眼と空間」1990,92,94/「バウハウス1919-1933」1995/「イサム・ノグチと北大路魯山人」1996/「ル・コルビュジエ展」 1996/「デ・ステイル1917-1932」1997/「柳宗理のデザイン」1998など (以上 西武美術館・セゾン美術館) 「現日本デザイン展」(ソウル国立現代美術館、1994、ゲスト・キュレーター)/「その日に-5年後、77年後 震災・記憶・芸術」(川崎市岡本太郎美術館、2000)/「表層を超えて-日本的物作りの手法」(国際交流基金主催、シンガポール美術館、マニラ・アート・センター、2003、ゲスト・キュレーター)/「ウィーン工房1903-1932-モダニズムの装飾的精神」(パナソニック 汐留ミュージアム、2011)/「岡本太郎生誕100年記念展『芸術と科学の婚姻 虚舟-私たちは、何処から来て、何処へ行くのか』展」(川崎市岡本太郎美術館、2011)
〈主な著作〉
「空間のジャポニズム-建築・デザインにおける日本趣味」(INAX、1992)/ 「モダニズムの庭園と建築をめぐる断章」(淡交社、2000)
Niimi was born in 1958 in Hiroshima Prefecture.
He graduated from Keio University in Tokyo, majoring in French Literature, Faculty of Letters.
He worked for the Seibu Museum of Art (later the Sezon Museum of Art) from 1982 to 1999, when he became professor of the Department of Arts Policy and Management, Musashino Art University. Niimi worked as Curatorial Advisor for The Isam Noguchi Garden Museum Japan, Visiting fellow of the Keio University Art Center and Curatorial Advisor of the Art Biotop Nasu, NIKI RESORT INC.
In 2013, Niimi became director in charge of preparations for the opening of Oita Prefectural Art Museum for the Oita Prefecture Art, Culture and Sports Promotion Foundation (iichiko Culture Center) in Oita Prefecture.
Areas of expertise:
History of modern and contemporary design and art, contemporary art theory, new museology covering art, design and management; study of space comparison and space perception originating in Japonisme; influential history of art, design and architecture, history of reception, history of comparative culture and art sociology.
Major Exhibition Projects:
"Japanese aesthetics and sense of space"; 1990, 1992, 1994
"Bauhaus 1919-1933"; 1995
"Isamu Noguchi and Rosanjin Kitaoji"; 1996
"Le Corbusier"; 1996
"De Stijl 1917-1932"; 1997
(All held at Seibu Museum of Art/Sezon Museum of Art)
"One Aspect of Contemporary Japanese Design"; 1994, Guest curator, at National Museum of Modern and Contemporary Art, Korea)
"Art and Society: Earthquake"; 2000, at Taro Okamoto Museum of Art, Kawasaki
"Beyond the Surface - Japanese Style of Making Things"; 2003, organized by Singapore Art Museum in collaboration with The Japan Foundation, at The Manila Art Center
"Wiener Werkstätte 1903-1932"; 2011, at Shiodome Museum
"Utsurobune Where do we come from? Where are we going?"; 2011, at Taro Okamoto Museum of Art, Kawasaki
Major literary works:
"Japonism in Space- Japanese Influence on Western Architecture and Design" (INAX Publishing, 1992)
"Essays on Modern Garden and Architecture" (Tankosya Publishing, 2000)
〈主な作家としての活動〉
 生来のキュレーターだが、ここ十数年来、小さな箱に雑多なものを詰め込んだ箱の作品やコラージュなどを作っていて、「未来の娘たち」という個展を何度か開いた。崇拝するアーティストは、アメリカ人ジョセフ・コーネル、ドイツ人ハンナ・ヘッヒ、そしてチェコ人ヤンドリック・スティルツキー。いずれも天才的な、アッサンブラージュやコラージュの達人たちである。あるいは「ものの魂にとり憑かれた」、聖者たちと言ってもいい。大袈裟にいうと私は自分自身のことを、彼らの魂の輪廻転生とも思っていて、彼らのエピゴーネンと言われることをいささかも厭わない。昨今は、クレーに取り憑かれていて、クレーが子供に残したような、人形をつくリ続けている。
「箱の個展」(児玉画廊、1994/銀座コマツ、1995)/「箱・コラージュ・人形の個展」(文房堂ギャラリー、2000)/「学生たちとの人形展」(ギャラリー現、2000)/「人形と食のスケッチ」(AKI-EXギャラリー、2002)/「学生との、人形たちの庭」(AKI-EXギャラリー、2004)/「学生たちとの、花、人形の庭」(ギャラリー册、2006)/「大分世界美術館」(ギャラリーTOM、2013)
Major activities as an artist:
I am a born curator, but for the last ten-odd years I have been producing works and collages of small boxes packed with miscellaneous objects, and have held a number of solo exhibitions called "Daughters of the Future". Artists I admire include American artist Joseph Cornell, German artist Hannah Höch and Czech artist Jindřich Štyrský. All of these artists are gifted masters of assemblage and collage. Or you could call them saints "possessed with the souls of objects". To exaggerate a little, I believe that I myself am also the metempsychosis of their spirits, and I don't mind in the least being called their epigone. Recently I have become obsessed with artist Paul Klee, and I've continued to make dolls, as though Klee may have bequeathed to a child.
"Solo Exhibition of Box"; 1994, at Kodama Gallery, 1995, at Ginza Komatsu
"Solo Exhibition of Box, College and Doll"; 2000, at Bunpodo Gallery
"Doll Exhibition with Students"; 2000, at Gallery Gen
"Doll and Sketch of Food"; 2002, at AKI-EX Gallery
"Garden of the Dolls, with Students"; 2004, at AKI-EX Gallery
"Garden of Flowers and Dolls, with Students"; 2006, at Gallery SATSU
"Oita-World Museum"; 2013, at Gallery TOM